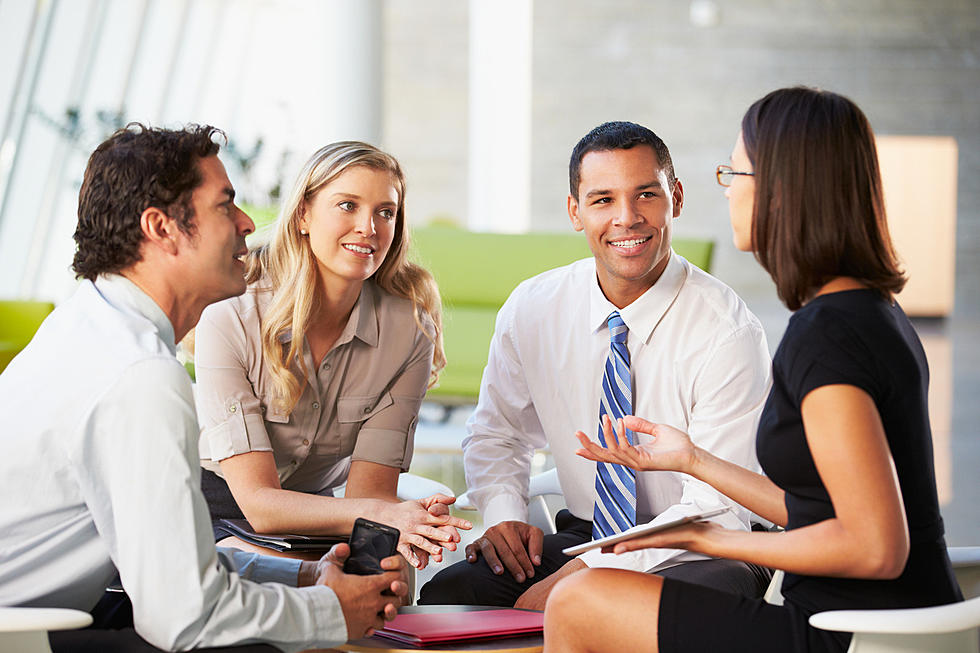 MA Residents: Are You Ready For Some Extra Down Time?
monkeybusinessimages
Attention Massachusetts residents: How does the thought of a four day work week sound to you? Naturally, it is an ideal scenario given you would have the extra day off in the process. Many employees would opt to take either Monday OR Friday off given that a LONG weekend is in your immediate future.
It seems like those at The State House in Boston are also paying heed to your request regarding this matter: A pair of Bay State lawmakers have recently filed legislation that would create a pilot program to study the concept of a possible four day work week.
Representative Dylan Fernandes of Falmouth and Representative Josh Cutler of Duxbury have gotten the process going as this would create a voluntary program that would allow businesses transition employees to present a shorter work week without an overall reduction in pay.
Fernandes stated this proposal would benefit both employers and their staff:
"Americans have not had a meaningful reduction in days off since the 40 hour work week was invented nearly a century ago. There's been huge technological improvements, and we've become much more efficient workers, but we're still working the same amount of hours".
He also added this move would save lives in the long run:
"We are living in an incredibly overworked, overstressed society that is increasingly disconnected from friends, family and community. Because of that, we have an epidemic in this country of unhappiness. Hundreds of thousands of Americans are dying each year from suicide, drug overdoses, alcoholism, and similar factors".
Employers participating in this pilot program would also agree to regularly report their findings as the impact of a shorter work week on Massachusetts residents could be better studied. In return, the employers would qualify for a tax credit. which would be tied to participation in the program for a set amount of time. Specifics of the credit would be flexible as the goal is to broaden a wide variety of companies to join, as experts can study how a shortened work week model impacts people in different parts of the state and in different industries.
The program, dubbed "The Massachusetts Smart Work Week Pilot" is now accepting applications from employers across the state as priority will be given to a certain number of employers which will enable participants from various industries, locations, and sizes. They will also ensure participation from veteran-,women-and minority-owned businesses plus people with disabilities will also be included.
Cutler anticipates this program will also appeal to a large portion of the public:
"I do think there's a lot of interest out there just from the broader electorate. We're in this tight labor crunch and we need to get creative about how we approach work. This is one way to get creative and I think this is the kind of creativity that we really need to embrace."
Statistics show that a four-day workweek can lead to increased productivity, happier employees, and fewer carbon emissions. Fernandes and Cutler reiterated their research backs up these findings.
Fernandes said he reached out to 4 Day Week Global to learn more about the concept:
"According to a statement by Jon Steinman, the 4 Day Week is proving to be an invaluable investment wherever it is implemented. Organizations see rising productivity, people are happier and healthier, and the benefits only scale up from there. With this bill, Massachusetts is poised to lead the nation towards a better future," 
The pilot program would run for two years, and be overseen by the Executive Office of Labor and Workforce Development. To participate, employers must agree to transition at least 15 workers to a shortened work week.
BOTTOM LINE:  I'm sure the extra day off is a welcome addition as we should forge ahead with this plan which will forward us towards positive results across the board.
(Some information obtained in this article, courtesy of www.boston.com/news)
QUIZ: Can you identify 50 famous companies by their logos?
How well do you know the logos of 50 of the world's most famous companies? Keep scrolling to see if you can guess which icon belongs to which brand.