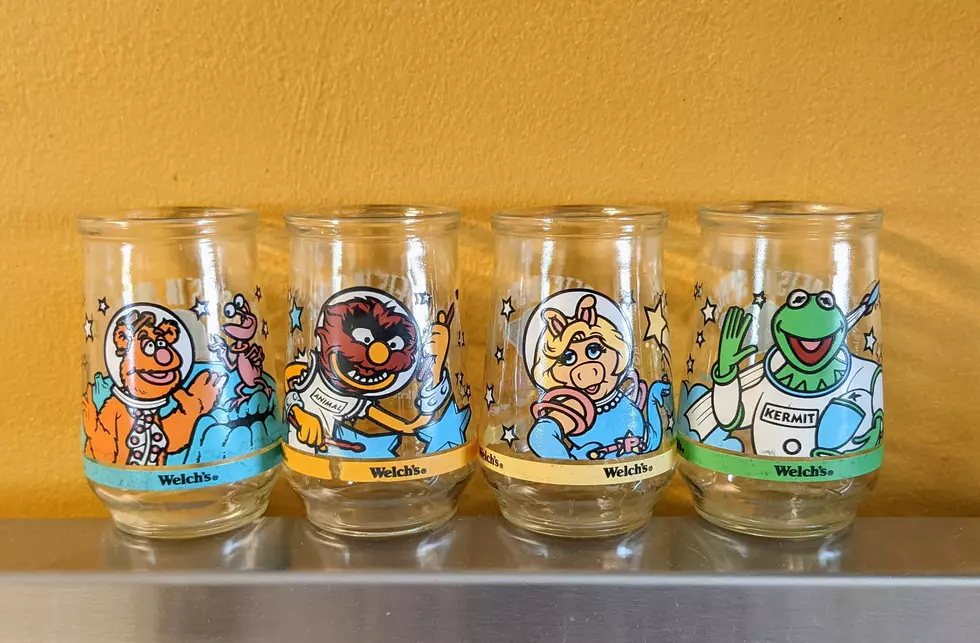 Remember Welch's 'Muppets In Space' Jelly Glasses?
Photo: Tom Conklin
When my kids were something like 8, 7, and 5 years old, Welch's started to put out a series of Muppets themed jelly jars that became collectable drinking glasses after you polished off the jelly and chucked out the lids out.  
The set of six jelly jars/drinking glasses were produced in 1998 and included Kermit in Command; Miss Piggy: A Shining Star; Fozzie Bear Gets a Giggle; Gonzo the Great Blasts Off; Rizzo's Lunar Lunch; and Animal Jams with the Stars.  
I don't think my family ever collected all six of them, but we had one or two. We held on to them for as long as we could. Eventually they faded and broke while being washed or by some other means. I don't recall exactly. We were able to hang on to my favorite one "Animal Jams with the Stars" (also my wife's DeFacto wine glass) until November 26, 2018 before I finally broke it in the sink. That sucked!  
Here's the Picture I posted on Facebook:  
That's when my awesome Facebook friend and voiceover colleague, Rowell Gorman came in. He stepped up right away and offered to send me not only his "Animal" glass but all the other glasses in the set that he had! Awesome!  
Here is the picture Rowell posted back to me:  
Anyway, a couple of weeks later, I received the four glass you can see in the header photo of this article. Included in the package was Kermit, Miss Piggy, Animal, and Fozzie Bear. One day I will indeed find the Gonzo and Rizzo glasses to complete the set. Here is a picture of the back of the glasses. Yes! Muppets in Space!  
Needless to say, Rowell made my day. Friends are the best!  
For those interested in the history of the original Welch's set, here is some information from a Muppets "Wiki" that I found: 
In 1998 Welch's produced six different collectable glass jelly jars/drinking glasses picturing Muppet characters in outer space. These special jars were released in May 1998, the same month that the official announcement for the film Muppets from Space was made. At that time, the Jim Henson Company was considering two different scripts for the final film - Jerry Juhl's Muppets from Space and Kirk Thatcher's Muppets in Space. These jars reflect Thatcher's ultimately unused script idea. These collectibles weren't designed to be a movie tie-in for Muppets from Space, but rather are collectibles for the movie that was never made. 
10 Old Fisher Price Toys That Are a Blast From The Past
MORE: See 30 toys that every '90s kid wanted