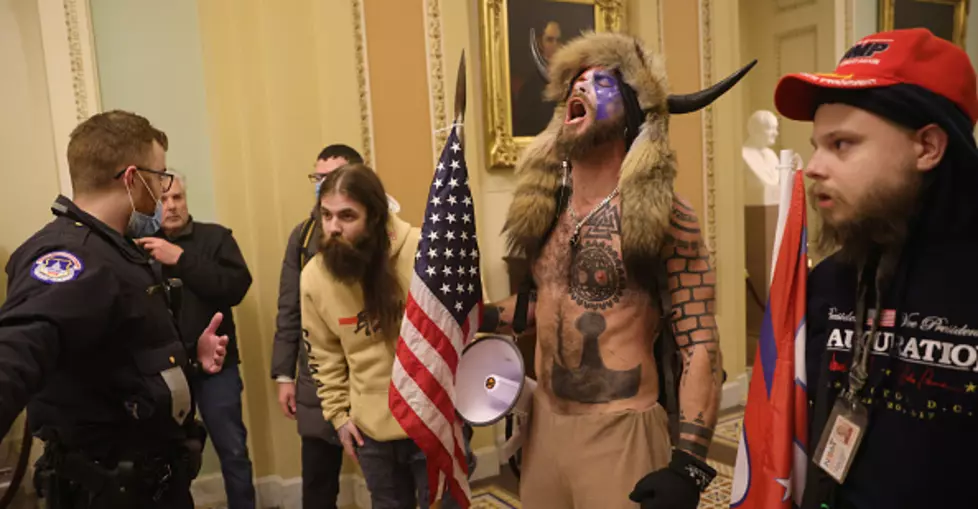 North Adams Man Arrested for Role In Capital Breach
Getty Images
A North Adams man has been arrested for his role in the breaching of the U.S. Capitol. The FBI says 33-year-old Brian McCreary, of North Adams, was arrested Thursday without incident in Springfield.
Court documents allege McCreary was captured in photos inside the Capitol. He told the FBI that he was frustrated by the outcome of the presidential election and had traveled to Washington, D.C. after listening to former President Donald Trump urge his supporters to take their grievances to the Capitol.
The Berkshire Eagle reports that in an interview with the FBI conducted Jan. 26th McCreary tried to paint himself as a peacekeeper during the riot. While inside the Capitol, McCreary was captured in photos near a shirtless Arizona man wearing face paint and a hat with horns. According to the FBI, McCreary confirmed that he was the person in the photo and said he'd gone to Washington, D.C., to attend the Trump rally.
The Eagle reports that according to previous coverage, McCreary has a local business as a lighting and decor designer for events. That business, McZawa, was registered with the state in September 2017.
The charges McCreary faces do not include allegations that he joined in acts of violence. He did tell authorities, however, that he was nearby when a rioter was shot and that he went back into the Capitol building after being instructed by security to leave.
According to the FBI, also arrested Thursday was 37-year-old Kyle Fitzsimons, of Lebanon, Maine. Fitzsimons allegedly scuffled with police officers while trying to enter the Capitol.
Enter your number to get our free mobile app
PHOTOS: Scene at U.S. Capitol shows chaos and violence