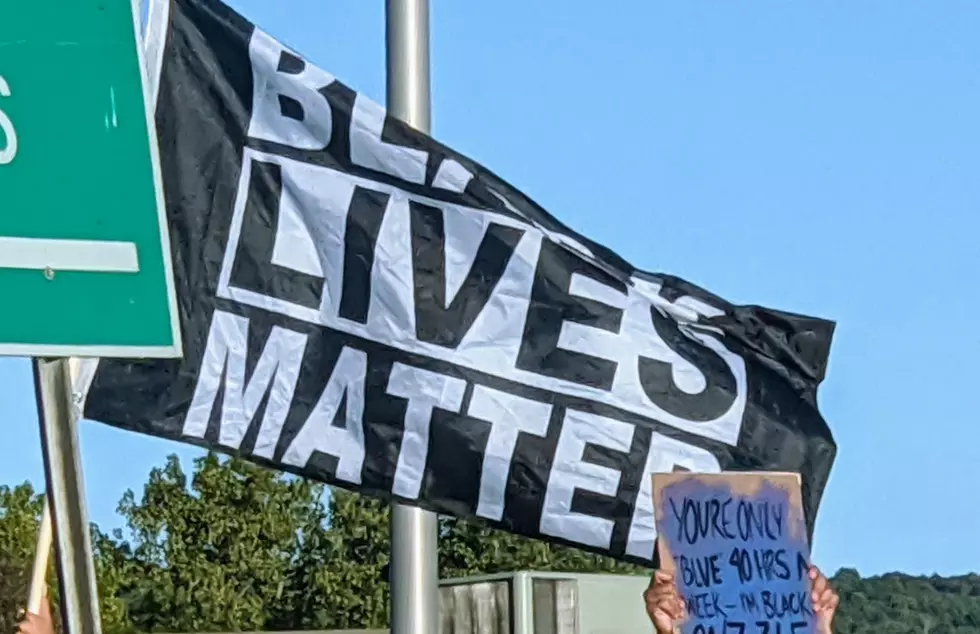 Pittsfield Man Arraigned After Black Lives Matter Incident
Townsquare Media
A Pittsfield man has been arraigned for allegedly blocking traffic on Dalton Avenue while getting into an argument with a Black Lives Matter demonstrator, and then according to court documents, refusing an officer's orders to move his SUV.
The Berkshire Eagle reports that 55-year-old John Brancazzu is facing charges of disorderly conduct and resisting arrest. He was released on personal reconnaissance after arraignment in Central Berkshire District Court, where he pleaded not guilty to the charges.
The newspaper says it tried but was unable to reach Brancuzzu's defense lawyer for comment.
According to the police report prepared by officer David Carusotto, Brancazzu was driving a black SUV with a Trump flag hanging out of the sunroof when he stopped around 75 feet before a red light on Dalton Avenue, while heading west, with no one in front of him.
The Eagle says that according to the officer, Brancazzu was heard yelling at Black Lives Matter demonstrators, and would not move his vehicle forward after the traffic light turned green. According to Carusotto's report, he, and fellow officer Izinna Lytle approached the SUV to move it along when Brancazzu got out of the vehicle and "got in the face" of Berkshire Black Lives Matter President Raymond Moore. The men allegedly yelled at each other before officers could separate them. Brancazzu, according to the report, got back in his vehicle but refused to leave despite Officer Carusotto telling him to do so 10 times.
Brancazzu is due back in court for a pre-trial hearing Jan. 6th.
The intersection of Dalton Avenue, Merrill Road and Cheshire Street has been the location of Friday night Trump rallies for the past several weeks that routinely draw Black Lives Matter counterdemonstrations.
(The information in this article was obtained from The Berkshire Eagle)
Enter your number to get our free mobile app
KEEP READING: See changes enacted since George Floyd's death